Ninja Vintage recently got a little mention in a great fashion blog called She's A Betty. The Navy Lady Suit Set (available in
dresses
) was included among a short list of "vintage finds" for February 15.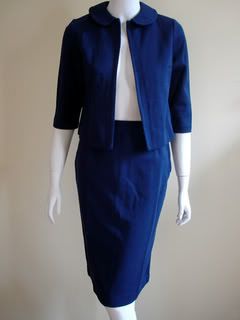 "Super price for a nice suit, plus Peter Pan collars and three-quarter sleeves were huge on NY F/W '07 runways. Pair with long black gloves & black tights."
Check out
She's A Betty
for a first look at upcoming trends, fashion and design news, affordable finds, and much more. It's one of the most interesting and comprehensive fashion blogs I've come across in a while.