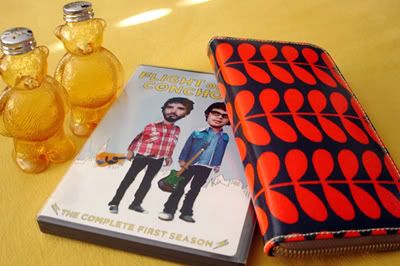 Here are some things that my friends got me for Christmas:
Bear salt & pepper shakers! These will be a great addition to my burgeoning collection of bear-themed items.

Flight of the Conchords - The Complete First Season

. I've loved Flight of the Conchords for years, but I don't have HBO, so I never got around to watching their television show (except for bits and pieces on Youtube). Now I can watch it whenever I want. I bow down to whoever came up with the idea of putting television shows on DVD.
Last, but not least, a navy and red Orla Kiely wallet. It's so nice and has lots of pockets for all my cards. I love it!
I also picked up this shirt at Forever 21 this weekend. It's navy and red, like my Orla Kiely wallet, and it's plaid, like Bret's shirt on the cover of the Flight of the Conchords DVD. Coincidence. Too bad there's nothing bear-related about it. That would be way too weird.